Like an Italian Woodstock, people of all ages and nationalities, wearing Rolling Stones t-shirts, poured into the walled Renaissance city of Lucca, Italy, last Saturday to see what might be the last tour of the Rolling Stones. A reported 55 to 75,000 people made the pilgrimage for their #NoFilter European tour. I was one of them. It's always a great day when I get to see the Rolling Stones. They've been part of my life since I was 12 and had a front row, center seat to their second U.S. performance in San Antonio, Texas.
It's an even better day when I get to see the Stones and meet an angel.
When my train arrived early Saturday afternoon, Lucca was already a zoo. People were streaming through the gates into the old city, camping outside at the concert venue or partying in the cobblestone streets.
"Paint it Black" and "Satisfaction" was blaring from an outdoor speaker at a local bar. It was apparent many revelers would be "sleeping it off" well before the Stones came onstage.
I waited an hour for a taxi to drive me to my hotel outside of Lucca. The hotel restaurant was closed, so I checked in and waited for another taxi back into town. The desk clerk, and my first taxi driver, said it was doubtful I'd find a taxi after the concert until well after 2am. With nothing to eat but yogurt since 8am, finding food and my standing "seat" were my top priorities.
With a bottle of water and a prosciutto/mozzarella sandwich from a street vendor, I found my Preferred "Seating" entry gate on the other side of the city.
Three security checkpoints and a wristband later, I pushed my way through the crowd to about "fourth row center." That was 4pm. Thousands of people unfolded behind me as far as I could see, and like everyone there, I stood for the next hour.
With four hours until showtime, I claimed a cramped little spot where my feet had been and sat down. For the next 90 minutes my view was nothing but legs.
Without warning the crowd surged in mass, pushing as close to the front barricades as possible. I scrambled to my feet. We were the proverbial sardines in a can. My fourth row center spot now consisted of 60 people ahead of me, a number that steadily increased. We stayed that way for the next three hours.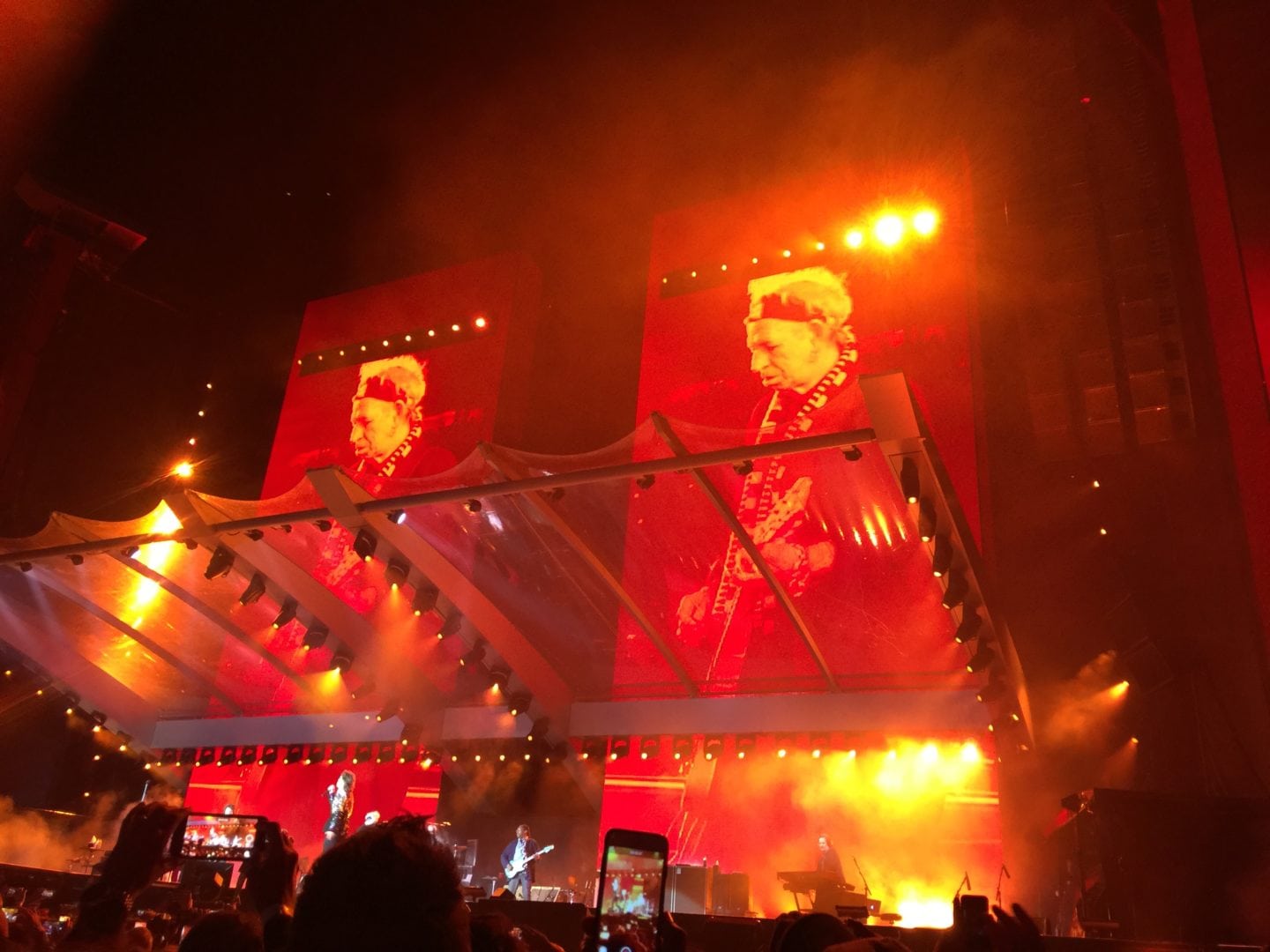 At last the stage lights flashed red. "Sympathy for the Devil" started up, and the Stones came on stage. The audience went wild. Within seconds, the crowd surged again.
I couldn't see Keith, Ronnie or Charlie, and I only got a few glimpses of Mick as he strutted down the ramp in front of me. I was trapped in a cloud of cigarette smoke and marijuana, the tall guys in front of me and the guy behind me who was doing pelvic thrusts into my… back.
Thirty minutes into the concert, I couldn't see the stage at all, except on ginormous screens, and I was feeling more and more lightheaded. No… I wasn't stoned. I knew I couldn't exit security and return, but I also knew I had to leave before I possibly passed out. I fought my way through the crowd, most of whom weren't happy I was going against the flow.
Outside on the street four EMT techs passed me, each holding the corner of a blanket, bearing what looked like a dead woman. They carried her past a parked ambulance and put her in the trunk of a car.
I stopped at the ambulance and told the nurse I was lightheaded–maybe dehydrated–and my blood sugar was somewhere down around my knees. Did she have some apple juice or water? She handed me a bottle of water and ushered me into the ambulance to take my blood pressure.
Two guzzled bottles of water and a packet of sugar later, I asked where I could get a taxi. Since I couldn't see the stage or reenter the venue, I might as well get a jump on finding a taxi. I was crushed, because more than anything, I'd wanted to see Keith and the guys "I'd grown up with."
The train station–the best place to find a taxi–was further than I was up to walking. While the EMTs couldn't drive me there, they could drive me to the ER… After much discussion in pidgin English/Italian, we settled on what the nurse referred to as "the chair."
I was strapped—across my chest and lap—into a flimsy wheelchair that looked like it came from the Dollar Store.
While one EMT tilted me back on two tiny wheels and pushed me down a dark and bumpy Etruscan street, the other EMT used the flashlight on his phone to look for debris. I gathered the "chair's" tiny wheels couldn't handle anything bigger than a piece of salami. As we rolled further away from the concert, the Rolling Stones grew fainter, overridden by the rhythmic noise of the chair.
Neither EMT spoke English, but they seemed to be arguing about which one was going to push me through the line of armed soldiers ahead. With permission from the guys with the automatic weapons, the EMTs pushed me across the plaza to the train station… the same spot I'd waited an hour for a taxi earlier that day.
As if on cue, a taxi rounded the corner, and the three of us—me still strapped into the chair—waved our arms like crazy people.
The driver pulled along side of us and said, "Hello, Madame. It is me! Are you all right?" It was the same driver who'd taken me to my hotel.
"I will be," I said. "I'm so glad you're here. You're my hero!"
Without missing a beat and in all seriousness he replied, "No Madame. I am an angel."
His speech was proper and modulated with not a trace of an Italian accent. He reminded me of the actor, Ben Kingsley: bald, a bit shy and short in stature.
I climbed into the front seat and told him I needed food and water. He took me to the first pizzeria we found and went inside with me. When I'd last seen him, he hadn't eaten either, so I bought us both pizza. Gobbling my pizza on the way to the hotel, I told him what had happened but kept coming back to, "What are the odds you were the one who pulled up to help me?"
"I am an angel, Madame," he repeated. I asked his name. It was Brunello.
The fair to my hotel was €24. He opened my door, and I handed him two €20 bills and told him I didn't need change.
"But Madame," he said. "You've already bought me pizza."
I smiled and said, "It's what you do when you meet an angel."